Motru For me, oral language has always seemed like the bedrock of my ELL students' language development.  Often it develops before literacy and when students have strong speaking and listening skills you ca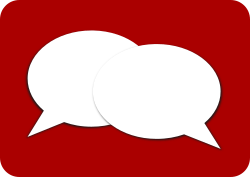 n use them to develop literacy skills.
This school year, oral language has become a focus for my whole elementary school because the Common Core devotes a whole strand of English Language Arts standards to "Speaking and Listening."  These standards build on each other so that all students will have effective academic conversation and presentation skills by the time they leave high school.
This new focus on oral language for all students will benefit ELLs because it gives classroom teachers a way to look at teaching oral language, something that may at times seem confusing or imposing to mainstream teachers.  Many teachers are very comfortable teaching content that they know well, but the idea of teaching the language of that content seems foreign to them.
In the last two years as we've started shifting to the Common Core, my school has been noticing that all of our students have trouble with academic conversation skills.  Speaking and listening skills don't develop automatically, we need to teach them.  That's why we've started using "Accountable Talk Read Alouds," also called "Interactive Read Alouds" to get students talking about literature and content K-5.
Accountable Talk Read Alouds are read alouds that increase student talk and get students comfortable with having independent academic conversations with their peers.  During these read alouds, students have a buddy that they sit next to and talk with during read aloud time.  Teachers choose a specific skill (predicting, inferring, etc.) for their students to wor
k on during their partner discussion.  As they read, the teacher stops at preset moments in the text to think-aloud or to prompt students to "turn and talk" to their partner or to "stop and jot" in their reading journal.  Teachers provide carefully worded prompts and scaffolds to help students with the discussion.  They also model finding evidence in the text to back up their opinions, a skill that is difficult for all students.  There's also an aspect of accountable talk that is called "The Grand Conversation," during which the whole class has a discussion about a book without raising hands or being prompted by the teacher.  The students comment on each other's thoughts and ideas.  It does take a lot of training, but I have seen this work in first grade classrooms.
The exciting thing is that now that all the classroom teachers are using accountable talk, I see my ELLs using the prompts in all content areas.  They're starting sentences with "I agree with Isha because…" and "I'd like to build on what Mohamed said …"
During my recent ACCESS testing I was pleased to see some of my student using various sentence frames correctly and orally retelling stories with an amazing amount of detail.  I attribute their success to this increased focus on oral language in their mainstream classrooms in all of the content areas.  I plan to continue to use accountable talk with my students and I'm glad that my mainstream colleagues will be as well.  Also, although accountable talk is mostly used at the elementary level, it can be adapted to work with middle and high school students, who still need plenty of practice with academic conversation skills.
If you want more information on accountable talk, here are some good resources:
Bringing Picture Books to Life!!! with Accountable Talk – a great power point that sums up the important points about accountable talk.
Read Aloud with Accountable Talk – Thinking and Talking Deeply about Books – this handout is a good list of teacher and student prompts that can be used during an accountable talk read aloud.
Ms. Gurian's Class – this website has accountable talk prompts written for 19 elementary aged books, just click on the title of a book and a page of "sticky note" prompts comes up that you can print out and try with your students.
---
Kirsten Kollgaard is an English as a Second Language (ESL) teacher at JFK Elementary School in Winooski, Vermont, and president of NNETESOL.